Wholesale Polybags and Corrugated Plastic Yard Signs
We are a premier wholesale manufacturer of poly bag style signs selling only to distributors and sign dealers all across the nation. We pride ourselves on being the most reliable wholesale bag sign company in the Midwest. We strive to impress our customers with quality, speed, and customer service. With over 20 year's experience of manufacturing signs, simply put, we know signs. With that kind of experience comes greater reliability, we can handle any order 10 signs to 1,000,000 signs.
Please feel free to look the site over. If you are curious about the wholesale sign prices you will need to register to be a dealer. Again, Poly Bag Planet is a wholesale sign manufacturer company; our prices reflect that and we will not sell to any retail customer. You will find that our prices are second to none and our services will exceed your expectations. If you don't believe what we claim our prices are, we challenge you to call 877-722-4748 or sign up to be a dealer and find out exactly why our dealers keep coming back.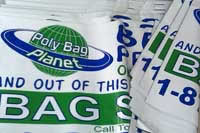 We are the manufacturer of Polybag and Corrugated Plastic style signs. If you need signs with
outstanding prices, you've come to the right place.
Our plastic bag signs are neatly printed in up to four vibrant spot colors and are designed to slip easily over wire frames. These frames hold the plastic bag signs taut while allowing you to place it in the ground easily without the aid of tools. Our plastic bag signs can be custom printed with any logo or slogan. In some areas, the poly plastic used to make the sign can be recycled through curb side recycling programs. If your customer is running an ongoing or particularly widespread campaign, there are discounts for large quantity orders. The Bag signs are made up of a "blackout" coaxial poly film. Poly bag yard signs are the preferred sign of choice when it comes to large scale marketing or campaigns; main reason being, their afford ability. The more poly bag yard signs purchased, the bigger the discount applied, increasing their afford ability even more.
Poly Bag Planet also specializes in delivering a sturdier sign solution. Plastic bag signs may work for some applications but corrugated plastic signs may be better if you require a more rigid solution. If you are interested in these corrugated plastic signs or plastic bag signs , you should order as soon as possible to guarantee the best wholesale prices for you and ultimately your customers.
For more information on the specific products please click here

.
When did Poly Bag's get popular?
Frankly, right now; poly bags are becoming more and more popular with each year that passes. Political campaigns are taking the most notice because poly bags are less expensive than corrugated plastic but still hold up in most weather.
When can I expect delivery of my signs?
Poly Bags are made and shipped on average in 7-10 business days after art approval. We do not have control over how fast shipping / trucking companies deliver your signs, that being said, we will do our best to ship your signs with plenty of time for them to be delivered.
Why Poly bags?
Thousands of campaigns have ordered millions of signs because they have discovered the worth of the Poly bag...
Reasons for ordering poly bag yard signs include:
"Black out" lining – light will not show through the sign
Double Sided imprint included
Made from Heavy-Duty poly plastic
No hassle installation
Millions sold annually
Printed with UV inks – No fading!
Wire stands INCLUDED!
All Pantone Solid Coated colors available at a $35 per color.
With wholesale pricing WE ARE the BEST VALUE
How are Poly Bag Signs made?
Poly Bags are made kind of the same way as newspapers are. The bags themselves are on a giant roll that circulates through a press which has metal plates that represent the color that is being printed. Each color is printed separately with a slight overlap (if the colors are touching each other).
How could there be
up to

a 10% over or under run?

A "Run" is an order, so it could be any amount from 1,000 to 100,000+. Since the bags are on a roll and cannot be printed individually the press is timed to figure out how many signs have been printed. When the press stops there could be more or less signs than what your order called for. If there is an over run you will be charged for the additional signs, concordantly if there is an under run you will be refunded for the amount that didn't print. We will never charge you more than 10% of the order. Typically, the larger the order the less percentage we would go over or under.

How do I become a Dealer?

Please Click here for more information.
Contact Us
Give us a call - 877-722-4748 or fill out this form!
Become a Dealer
Before you are able to see our wholesale prices you must become a registered dealer and place your first order. The process is extremely easy. To become a dealer please fill this form out and return it to us via fax or e-mail with a copy of your Federal Tax ID Certificate.

We'll review your application, process and complete your first order and then send you your log-in credentials so you can see all of our prices! We firmly believe that we have the best prices and fastest turn around times. It is our aim to protect these qualities to make our industry better. Please call for pricing on your first order, you wont be disappointed!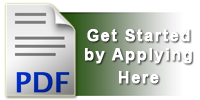 Quick Links
Frequently asked information
Terms
ACCEPTANCE OF TERMS
All products and services provided by Poly Bag Planet are subject to these Terms and Conditions of use:
By placing an order you are forming a legally binding contract with Poly Bag Planet for products and services, and agree to be bound by the Terms and Conditions of the website in whole.
Use of the service for the sole purpose of obtaining estimates with no intent to purchase is prohibited.
The Client agrees that Poly Bag Planet shall not be responsible for any loss or damage they might suffer due to any modification, suspension, or termination of an order unless mutually agreed in advance by Poly Bag Planet.
Client agrees to indemnify and hold Poly Bag Planet and its subsidiaries, affiliates, officers, agents, business partners or employees harmless from any claim or demand, including attorneys' fees, made by any third party due to or arising out of content client submits or transmits through our site.
By using our site, you are representing that you have full rights to use the copy design, and images in your piece without infringing the intellectual property rights of third parties. Poly Bag Planet will not assume the responsibility of checking of the content of its Client's submitted materials for copyright violations, and will not be held accountable for any illegal use of copyrighted material by its Clients.
By clicking the "I ACCEPT" button and or making a purchase, you acknowledge that you have read this document and agree to be bound by its terms.
CHANGE OF TERMS
Poly Bag Planet reserves the right to change the Terms and Conditions at any time without notice. You are responsible for reviewing the Terms and Conditions for any changes at the time of order placement.
PRIVACY POLICY
Poly Bag Planet takes the privacy of its registered users seriously. This statement explains our privacy and data-protection practices. It is important for Poly Bag Planet to safeguard its users' privacy while providing a personalized and valuable service. Collecting limited personal information is necessary if Poly Bag Planet is to satisfy the expectations and requirements of its users, e.g., by communicating with them and providing an interactive service.
WHAT INFORMATION DO WE COMPILE?
In addition to your email address supplied when signing up to Poly Bag Planet Headlines, Tools, Wizard or any other service, information is automatically retrieved on your browsing behavior through the site. This is used only in aggregate or, no individual user is identified. The aggregated data lets Poly Bag Planet analyze site traffic and thus provide you with a more relevant service.
WHAT DO WE DO WITH INFORMATION WE COLLECT?
The personal information you supplied when signing up to Poly Bag Planet Headlines, Tools. Poly Bag Planet will not disclose personal information of anty type to third parties except as necessary to fulfil orders (e.g. address and phone number for shipment) and for billing purposes. The e-mail address you provided lets us send you information about important changes and improvements to the site, and lets you manage your account. Each time you receive a message, you will have the option to decline to receive further marketing information relating to Poly Bag Planet.
If you have any questions in the meantime, or would like to be removed from Poly Bag Planet service, please contact: info@polybagplanet.com, clearly specifying the email address you submitted when using Poly Bag Planet service.
COPYRIGHT INFORMATION
No part of our publications or Websites may be reproduced or transmitted in any form or by any means, electronic or mechanical, including photocopying, recording or any other information storage and retrieval system, without written permission of the publisher.
Purchasing or obtaining a document, whether it is in print or electronically, does not give the end-user any of the rights granted to the copyright holder. The copyright owner has the exclusive right to:
Reproduce the work in copies.
Prepare derivative works based upon the work.
Distribute copies of the work to the public by sale or other transfer of ownership, or by rental, lease, or lending.
Display the copyrighted work publicly.
The creator of the work has exclusive rights with or without a copyright statement. According to the Berne Convention Implementation act of 1988, copyright notice is optional for all works published on and after March 1, 1989.
ORDERING AND PAYMENT POLICY
All orders are 100 % prepaid. We accept Visa, Master Card, Discover, personal checks, money orders and cashiers checks. Once your order is placed by credit card, personal check, money order or cashiers check it is a confirmed order. You will receive a confirmation of your purchase within 24hrs via e-mail if ordering over the phone. After your order is processed, we forward it to the Graphics Department. No design work will be started if your order is not paid (orders placed by phone or e-mail). The customer is responsible for verifying all aspects of the written estimate, invoice and related paperwork. Poly Bag Planet assumes no responsibility for typographic errors contained in these documents once they have been approved. Please verify quantities, colors, styles, sizes, printing material, billing and shipping address.
SUBMISSION OF ARTWORK OR GRAPHICS
All artwork remains property of Poly Bag Planet unless purchased from Poly Bag Planet. Poly Bag Planet is not responsible for the quality of the images you upload and will not be liable for any files that the Client has not set up properly. Client is responsible for making sure that the quality of the image you are uploading is of high enough quality to be satisfactory to you at the size you select on the sign, banner or other product that you are purchasing.
COLOR PROOFING, MATCHING AND PRINT QUALITY
Colors will appear differently from one computer monitor to another and from one printer to another, therefore the final print might be different from the one you see on your equipment(s). Standard colors are approximate and may vary. If you are looking for a more specific color you need to refer to a PMS chart. We cannot guarantee a perfect match to PMS and Standard colors and we are not liable for the final color appearance and/or ink density. Proofs that we sent and you approve will show design layout, text accuracy, image proportion and placement, not color or density. Poly Bag Planet does not guarantee that the colors as they appear on the screen or printer will look the same as the colors that appear on the purchased product. Allow approximately a .75 inch no print border as provision for the bleed.
ORDER PROOFS
We require your approval for the layout (proof) before we print your order. Poly Bag Planet is not liable for undetected art, text or color errors after sign proof has been approved and production started. The proof of your artwork will be used to produce your order. Please read for errors. By approving, you assume all responsibility for all grammar, punctuation, spelling, layout and color errors. Check your artwork carefully. Once approved, we will produce your order unless otherwise instructed to make any changes.
PRODUCTION TIME
All production times are estimates. You agree that Poly Bag Planet will take at least 7-10 (bag signs) or 3-5 (corrugated plastic) business days from the art approval to produce and ship your order. This production time is not guarantee. Our business days are from Monday through Friday (excluding holidays). If you place your order on Friday after 4PM CT, Saturday or Sunday, we will start working on your order the following Monday. If you want us to use our Rush Service there will be an additional charge. Production time for orders with artwork approved after 6PM CT are counted starting the next business day. Transit time for shipping is always additional to production turnaround, so please make sure to take this into consideration before placing the order.
CANCELLATION POLICY
You can cancel your order only before it has been produced. Personal and custom ordered items cannot be returned for a refund unless there were errors on our part.
If cancellation is made and no design work has been started your cancellation fee is $75.00.
If your order is cancelled after artwork has been started, the cancellation fee is $100.00
If your order is cancelled after artwork has been approved but printing process has not been started, the cancellation fee is $150.00
Your order cannot be cancelled after artwork has been approved and the order has been sent to press for printing, the ordered product had been printed, the order is already packaged, the order is en route to you or has been delivered.
SHIPPING & DELIVERY TERMS
Poly Bag Planet makes every effort to pick reliable shippers and we have a good track record. However, Poly Bag Planet cannot and will not be held responsible for delays or damage in transit. Poly Bag Planet does not guarantee delivery dates. Delivery times are estimations only and Poly Bag Planet shall not be liable for delays. We calculate shipment and delivery dates based upon estimates provided by our shippers. Once Poly Bag Planet delivers the product to the carrier, claims for loss or damage must be made against shipping company. Customer is advised to carefully check packages upon arrival prior to the shipping company's departure. Shortages must be reported via e-mail within 3 business days of shipment receipt. We can ship products anywhere in the United States. For shipping quotes to other countries please e-mail shipping details (Country, Zip Code) to info@polybagplanet.com. If the client supplies the wrong address causing a package not to be delivered on time, Poly Bag Planet will reship the package to the correct address with customer paying an additional shipping fee for the reshipment. Rush charges will be refunded or waived by Poly Bag Planet, where applicable, for a delay caused by technical difficulties AT Poly Bag Planet.
RETURN AND REFUND POLICY
Poly Bag Planet does not guarantee or warrant that its products will work for any intended purpose or in any set of conditions. Poly Bag Planet is not responsible for reviewing, revising or cancelling orders, products or images once an order has been placed. If we made an error after client order approval (invoice / proof), we must be notified within 6 days from the ship date and we will re-run your order.
CLIENT / CUSTOMER APPROPRIATION POLICY
Because of the nature of whole sales, Poly Bag Planet will NOT appropriate or contact any retail customer that has ordered under one of our registered dealers.
ADDITIONAL CHARGES
PMS Color match – $35.00 Charge
Reverse Printing – 5% Charge (corrugated plastic)
Half Tones – $35.00 Charge (corrugated plastic)
Additional fees will apply for printing the reverse side of the sign different from the primary side. (corrugated plastic)
Add 5% to your total sign order for yellow corrugated plastic.
Artwork if needed – $35 per half hour
SALES TAX
Sales Tax will be charged to orders within Iowa State unless you are tax exempt. If you are tax exempt, you will need to send or fax to us your tax exemption certificate.